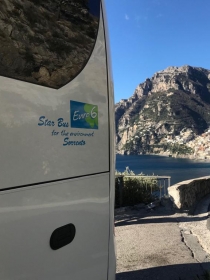 STARBUS is a constantly expanding company with a clear focus on progress and new technologies.

Our buses - according to Euro 5 and Euro 6 with Bluetec technology - meet the EEV (Enhanced environmentally friendly vehicle) exhaust standards.
This standard provides for particulate values below the Euro 5 standard and is currently the most stringent European directive on emissions for buses.

In this way, we can provide a modern and ecological tourist service, passing through the limited traffic areas of the cities respecting the protected areas, world heritage and natural heritage of humanity.